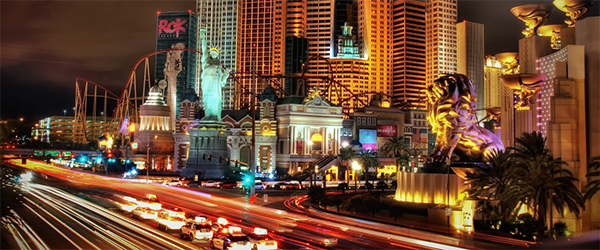 As I boarded a plane to Las Vegas last week, I realized how much we are influenced by these logos and monograms in our everyday lives. It hit me harder when I reached my destination and had to refuse to stay at a motel for its horrid looking advertising sign (as well as interior). I decided not to risk my sanity in there and rented a room elsewhere. For me, logos are a deal maker or breaker when it comes to leisure spending.
I was traveling to rejuvenate my creative thinking and imagination. I wanted to breathe in the hustle and bustle of a densely populated entertainment capital of the world because the biggest part of my inspiration comes from observing random people and their customs. And Vegas is well-disposed to offer a rich variety of cultures, all in one place, with an amazing nightlife. I also saw a multitude of logo designs on every street and corner of the city. Most of them were average but some really stood out.
Sometimes we never directly use the product and still love the brand for its clever promotion campaigns. A logo sits atop, at the iron throne, of a branding operation, clinging to every potential customer's mind and luring him into spending money for it.
Let me start from the beginning…
While planning my visit to Vegas, I needed to compare airlines for a more than two thousand mile long distance and decide on the time I wanted to leave. I had several options such as the United Airlines, JetBlue Airways, the American Airlines, U.S Airways, Spirit Airlines, and Delta Airlines.
Aviation Logos
Having a look at these logos makes you wonder why the aviation and travel industry relies on minimal symbolism. Two of these logos are text based and the other four have very typical symbols except for United. Even that came about as a result of a merger between United and Continental because the global mark had served the latter's brand image since 1991.
So I thought of checking the works of logo designers designing aviation and automobile logos right now. The newbies aren't doing very much in that department and I found very limited work. Here are a few squeezing their creative juices to contribute better logos in the travel industry:
• Paul Saksin
A Russian-based graphic designer who specializes in all aspects of branding; be it corporate identity, development of creative design solutions, lettering and typography, printing layout, packaging design, web design, etc.
Tweets by @master_ino
• Dalius Stuoka
Stuoka is a freelance graphic designer based in Lithuania who focuses on typography and identity design. You would love the clean minimalist style and the vibrant colors in his designs that he apparently taught himself.
• Szende Brassai
Szende Brassai is an amazing graphic designer and illustrator who has been freelancing since 2011. She lives and works in Saint George, Romania, and loves to undertake projects related to logo design, print design, and icon design.
Tweets by @ad_line
• Emir Ayouni
This guy has been an art enthusiast all his life. He believes in his unique approach to design, i.e. simplexity, which mean that a simple design can be created with layers of complexity or vice versa. It takes a lot of skill and common sense to keep the equilibrium between the simple and the complex in a design and that is exactly what Ayouni aims for every day.
Tweets by @growcase
Moving on…
After contemplating over the logos from the travel industry, I got on the plane and went on my vacations. I didn't want to think nor do anything related to designing but I later realized why Charles Eames said:
"Eventually everything connects – people, ideas, objects. The quality of the connections is the key to quality per se."
I needed to reconnect with nature, with human beings, and no matter where I went, I just couldn't avoid the connection with objects – the material that surrounds us 24/7. The one thing that you absolutely cannot avoid in Vegas is Casino and Restaurant logos. The hotel and restaurant industry is huge and a multimillion dollar business in that part of the country. Some of the best, most authentic, hotels and casinos to visit include the Caesars Palace, MGM Grand, El Cortez, the Mirage, etc. Otherwise, you can enjoy the restaurant casinos such as Le Cirque, Fellini's, and so on.
Hotel & Casino Logos
If you look closely, these logos provide a wider margin for experiment font, symbol, and color scheme than the ones in travel industry. There are hundreds more that will catch your attention in city of glamour and gambling. There are various talented graphic designers and logo designers who are developing brilliant concepts for hotels, resorts, casinos, and restaurants. Let me introduce you to some promising artists and designers of the future in this department:
• Daniel Durrans
Durrans is a Londoner working in Malta as a graphic designer and illustrator. He is the creative art director at Casumo, which is a casino adventure. He is creating good stuff for the online gaming i
https://www.designmantic.com/blog/logo-story-for-travelers/

(

0

لایک)