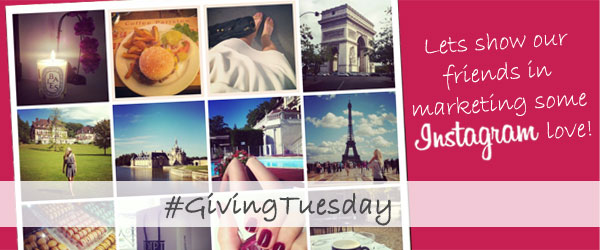 Many surveys have been conducted on the effectiveness of visual content on social media networks in the past few years. For example, new research suggests that images generate about 98% higher interaction for small business owners. Instagram, one of the most popular photo sharing platforms, especially, plays a significant role in making quick connections because of its exponential growth as a worldwide community. Established brands are coming up with unique ways to market their products and services using various apps available to make their Instagram photos attractive for the customers. They love to post behind-the-scene images, best captured shots from a public event or creative updates of their latest offers. Some brands even run Instagram contests to promote their sales.
Related: #GivingTuesday Roundup: 12 Smart Business Card Apps For Small Businesses
Using Instagram is beneficial to cultivate a good fan-following and strong social media presence of your business. Using these supporting apps below will only produce more lucrative results for your brand. These are the most useful resources you could find over the internet to make your visual content user friendly for the viewers. Each of these tools can help create a strong fan following over social media platforms.
• Snapseed:
One of the best in Instagram's built-in filters, Snapseed does everything from redeye reduction to textured filters.
• Gramgrab:
Showcases the Instagram photo collection and works with hover-action to display details of a photo's number of likes, filter used and uploading time.
• Clipstagram:
This app helps the marketer in browsing through random Instagram gallery and map photos. This not only allows to like and comment directly from the page but you can just as easily share on Facebook.
• Instac.At:
This simple web application helps in finding the right Instagram photos as per categorized by the #tags and keywords. Clicking on the photo would lead directly to the original link on Instagram.
• Copygram:
Copygram helps you browser your own photos and those of others in list or grid view. You can open them in original size, like, comment, and follow other Instagramers.
• A Beautiful Mess:
What is it that you can't do with this all-in-one beautifying tool for your photos? It offers a variety of filters, doodles, fonts, etc. Moreover, there are built-in social media buttons to benefit small business marketers.
• InstaSize:
This app makes your life hassle free by letting you upload full size images on Instagram. You might want to use this free app for its filters and editing apps
• Bokehful:
The Bokeh effect is generally explained as "the way the lens renders out-of-focus points of light." Bokehful simply applies the effect on your photos captured by a smartphone.
• Instagrid:
Instagrid works like a feed reader for Instagram – one which you can subscribe through e-mail.
• Webstagram:
This full-featured app has a web gallery for your instagram where you can easily like or comment on a photo and follow other users.
• Instush:
Instush collects and displays the popular Instagram photos as a collage with options to share it on social media or embed as a widget on the website.
• Instawar:
This simple app helps you compare and/or pair similar photos on your Tumblr page.
• Followgram:
This one is a full-featured web app including photo galleries, Follow button, and QR code sharing.
• Instabackup:
Instabackup helps you download all of your Instagram photos in a single archive folder.
• Instagram Downloader:
Instagram Downloader is backup app to keep safe your Instagram photos.
• Quick:
Have you ever wanted to add text to your Instagram photos? The text overlay feature of quick comes with a wide array of fonts to complement or match your business image.
• WebSta:
WebSta is also a full-featured web app for you Instagram, but with better sharing options and an amazing photo gallery.
• Statigram:
His is perhaps one of the most interesting apps available for Instagram. Some of its unique features are the availability of statistics, timeline integration, Facebook custom tab, and cover photo creation.
• INK361:
INK361 is a beautiful app with complete features as alternatives to a marketer's current favorite.
• Hashtagram:
This app can be extremely useful for a small business marketer. It works as a slideshow for Instagram photos with full screen image rotation. It integrates perfectly with Twitter so you can conveniently retweet, quote or reply to other users.
• Screenstagram:
Screenstagram turns yours and your friends' choicest photos into a screensaver on your computer.
https://www.designmantic.com/blog/roundup-21-instagram-apps-for-sm-business/

(

0

لایک)