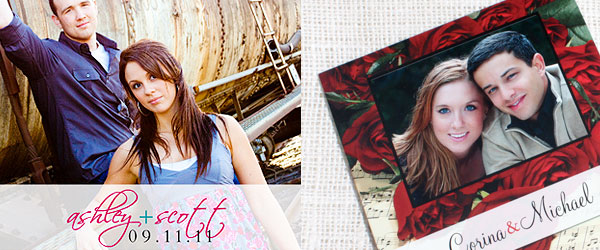 While watching a really good wedding movie of my aunt, I came across some really cool ideas for wedding monograms. Most of you must have gone through my old posts on monograms. Well, this time I have some unique things to tell you. Wedding monograms will not just be a thing to be placed on wedding floor and, bride and groom's gift; this time there are more in for public interaction.
Wedding monograms are getting very popular these days. Although they were there even when you and I weren't born, their charm faded in the last couple of decades. Again now, these wedding couplets are increasingly used in wedding and being presented in unique and attractive ways. To couples, it is a sign of religious belief as well as of their love bond. To the public it's for the couples' long lasting love and for the family, it's as majestic as the whole wedding.
Let's take a look at these innovative ideas.
Related: What Does A Couple Look For In Their Wedding Monogram?
• Wedding Monogram and the Sweet Treats
Sounds a little weird but believe what I have thought about is going to be the most unique way of entertaining and yet presenting your love monogram. Have you wondered what guests would love most? Consider this, who does not want to have a sugary bite of a chocolate or a candy, something a little sweet? You might have considered about giving treat to your relatives and friends. How about giving them this sweet treat?
Your wish is granted! Have a look at these stylish, adorable, attractive and elegant wedding gift boxes. Aren't the amazing? Common they do not resemble a container. They are a mere 1.75" box. Now what's interesting about these cute little boxes is that sweet candies can be stuffed in like chocolate balls, candies, mini cup cakes, sugary balls etc. On its opening side, you can stick your wedding monogram. See how wonderful this way is for showing your wedding monogram to people. You can even get it customized in different colors and add ribbons matching the box theme etc.
I knew you would like my idea. You can change the gift from box to a small plastic pouch and stick monogram on it. This would be comparatively cheaper but an effective way of presenting your idea.
Wedding Monogram and the Sweet Treats 1Wedding Monogram and the Sweet Treats 2
Wedding Monogram and the Sweet Treats 3Wedding Monogram and the Sweet Treats 4
• Wedding Monogram on CD Covers – Set the Mood
How much do you listen to songs? Listening to your favorite sets the mood right and brings back the memories? Well this effective technique could be just a turnover for your guests. Engage them into something similar. What you can do is select songs recalling different events and share them with your relatives, friends, co-workers etc. Put them in a CD and give it to your guests as a home gift. Whenever they'd listen to the music, they'd recall your wedding day. But you'd have to make sure to play it on your day. Or you can put your wedding movie video in DVDs and gift them to your guests. They sure will be excited to watch it.
Different kinds of CD covers can be designed. On top of the cover, your wedding monogram could be placed. You could even choose different photos of you and your partner together and get it printed on the cover and CD along with the monogram. Or the CD and cover both could have different pictures of you and your partner. Another idea is to write "Thank You" on the CD and the cover to express your gratitude to guests for attending your wedding ceremony. All these ideas are worth trying.
Wedding Monogram on CD Covers 1Wedding Monogram on CD Covers 2
Wedding Monogram on CD Covers 3Wedding Monogram on CD Covers 4
• Cool Invitation Card Fans
Another unique idea is to show off your monogram with invitation cards. Well, this might seem a little weird but most of the guests in wedding are either sitting bored or feeling hot. A perfect way to cool them off is by placing invitation card fans on table which could be very effective. They could be made with different designs and your monogram could work well with them. Customize them with different flowering patterns and text. Choose vibrant colors to give them a professional look. I am sure your guests would be more than happy to see you offering these to them as invitation cards.
Cool Invitation Card Fans 1Cool Invitation Card Fans 2
Cool Invitation Card Fans 3Cool Invitation Card Fans 4
• Flaunt on Dance Floor with Wedding Monogram
One effective way to brighten your wedding through wedding monogram is by creating a marvelous dance floor. You sure do love songs, right? So how about making people swing their bellies a little? It wouldn't be bad as people would enjoy dancing. What you can do is put your wedding monogram to the dance floor.
You can even creating lighting effects of your monogram and place it on the dance floor. This is quite an innovative idea because you can change the position of monogram with the people dancing.
Flaunt on Dance Floor with Wedding Monogram 1Flaunt
https://www.designmantic.com/blog/ideas-for-wedding-monogram/

(

0

لایک)