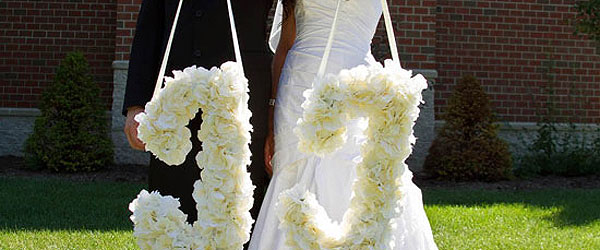 According to many, wedding is the best happening of life. To others, it is the opposite. Whatever different opinions people keep, a time of happiness is always remembered. Wedding monograms are the best way to show the true bond between a groom and bride. Whether they be presented as gifts, included in invitations or just placed on walls, these monograms are a sign of happiness for couples.
In a monogram, the initials are taken to make exclusive designs. These initials could be of a newly wedded couple or a single person. In weddings, monograms are used on linens, cakes, stationery of wedding and more. In older days, most couples had monograms of their own. Even today couples discuss and decide for themselves from a single, old or trendy monogram.
Related: Innovative Ideas To Show-Off Your Wedding Monogram
• Wedding Monogram Types
1. Some couples look for modern monograms. The etiquettes are different and couples have the option to choose from two versions. Usually in a modern monogram, the bride's first initial is put on the left, groom's first letter on the right and the last letter of groom is put in the middle. These combine to make a monogram of three letters.
2. Another modern monogram example that couple look for is a single monogram. It just has the last name's initial of the groom.
3. Couples also choose from combined last name monogram. Brides have the option to create a single monogram with the groom. This would join the two in one design. A small symbol could be placed between the monograms. The method of creating single monogram is to take the first name initial and put it in the left. Take the middle name initial and put it in the middle and take the last name of initial and put it on the right.
4.
A two letter monogram is used as well. In this case, last name's initial of bride and groom is taken to make it.
• Use of Monogram before the Wedding Ceremony
Couples who are engaged make sure that their first name initials are taken properly. In a traditional method, bride's first letter is taken first. However, the couples decide themselves which letter should be put first for monogramming.
If the marriage has not taken place then engaged couples should not make use of monograms of marriage. They should not join their initials together until the marriage. Most couples start using their monogram on the wedding day. They put it on walkway runner, union candle and many wedding programs.
• Use of Monogram in the Wedding Ceremony
Use of Monogram in the Wedding Ceremony
For wedding invitation, the design popular among couples is the less traditional style and design which only includes the first letters of names. These monograms are used for table decorations and other favors as well. Some couples like to use custom monograms on wedding cakes and on place cards.
Among the various uses of marriage monograms, some are for announcements and invitations for the wedding. They are also used in the gift-giving process.
• Use of Monogram after the Wedding Ceremony
Use of Monogram after the Wedding Ceremony
Couples whose matrimonial services are completed make use of married monograms. At this time, traditional married monograms are used. In this, the husband last name first letter comes in the centre and first names' first letters of bride and groom comes on both the sides. These are written in smaller font. Usually wedding monograms are used in variety of gift from the side of bride and groom. Cakes make the best gifts to use wedding monograms after the wedding.
• Wedding Monogram Gifts
Wedding Monogram Gifts
Brides usually like monogrammed sheets and towels. Groom should use initials of maiden when getting these sheets embroidered. Mostly, silver goes with groom's letters so it would be better to get this done. Other than that, crystal could be used for both bride and groom.
Things which are seldom used by either the bride or groom will not be fit for monogramming purposes. A bride should choose things that the groom enjoys and a groom should choose things more used by the bride.
• Usage of Fonts
Couples like different fonts for wedding monograms. There are many different types but some of the most suited ones are
• Fancy Script: This font is in French style and has elegant loops and add-ons.
• Victorian Styled: There are both thick and thin lines in this serif font.
• Arabesque Styled: This font is quite thick as compared to others and has a thin shadow. It also has embellishments of flowers and vines.
https://www.designmantic.com/blog/couple-in-wedding-monogram/

(

0

لایک)